MiniMed® Veo
The combination of a MiniMed® Veo™ Insulin Pump and Continuous Glucose Monitoring (CGM) gives you better control and understanding of your glucose levels 24 hours a day. Our CONTOUR® LINK blood glucose meter automatically and wirelessly sends your blood glucose results data to your pump, so you don't need to record it manually. CareLink® Personal software allows you to quickly and easily download your glucose and insulin data to share with your doctor in person or remotely.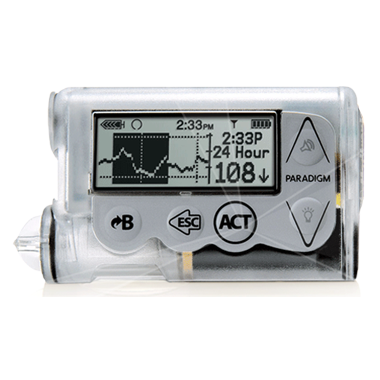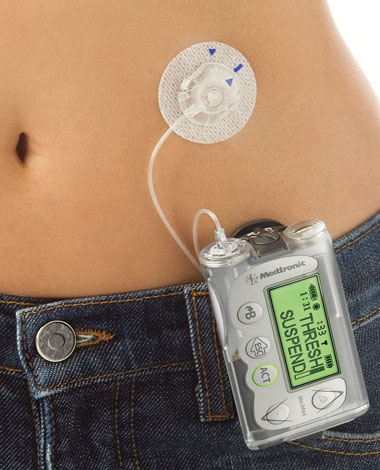 the MiniMed® Veo™ benefits include:
Helps you achieve your ideal HbA1c
Reduces risk of dangerous highs, lows and long-term health issues1,2
Up to 90% fewer injections – just 1 needle every 3 days instead of 12 needles3
Compact and simple to attach
The flexibility to eat and exercise, sleep and travel when you want
Full training and support
Download Brochure
MiniMed® Paradigm™ real-time
The MiniMed® Paradigm™ REAL-Time insulin pump was designed to emphasise ease of use, optimise safety and ensure continuous, flexible insulin delivery. The Paradigm™ REAL-Time System is the first in the world to integrate advanced insulin pump therapy with Continuous Glucose Monitoring (CGM).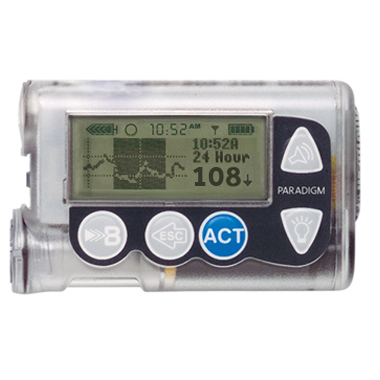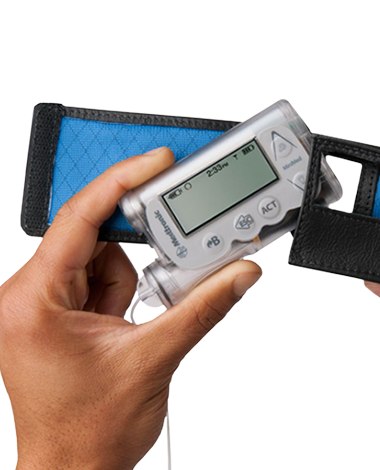 The benefits of the MiniMed® Paradigm™ REAL-Time include:
Simple menu navigation
Bolus Wizard™ calculator for simplified insulin dosing
A scientific 'insulin action curve' to protect you from hypoglycaemia by factoring in the amount of active insulin left in your body
Built-in prompts and reminders help you stay on track for good control
Small in size for discreet wear
Download Brochure
You may be interested in
THE MINIMED®640G
Discover a system that closely mimics the way a healthy pancreas delivers basal insulin.
More Details
INSULIN PUMPS FAQ
Find answers to popular questions about MiniMed®insulin pumps.
More Details
MY LEARNING
Discover the essential resources for your diabetes management.
More Details
Pickup JC, Sutton AJ. Severe hypoglycaemia and glycaemic control in Type 1 diabetes: metaanalysis of multiple daily insulin injections compared with continuous subcutaneous insulin infusion. Diabet Med. 2008;25:765-774.
The Diabetes Control and Complications Trial (DCCT) Research Group. The effect of intensive treatment of diabetes on the development and progression of long-term complications in insulin-dependent diabetes mellitus. NEJM. 1993;329(14):977-986.
Based on the recommendation insulin pump infusion set change once every 2-3 days compared to 4 injections a day for 30 days.