CARELINK® REPORTS
CareLink® Personal software is designed for patients and is viewed online. This secure therapy management software downloads information from your pump, to create reports, allowing you to track patterns of your diabetes and therapy. With the CONTOUR® NEXT LINK 2.4 meter, you can download information from your pump at home or anywhere with Internet access. Just register and log in.
for Healthcare Professionals
CareLink® Pro Software is designed for clinicians and hospitals and only available to healthcare professionals. Reports generated contain the same data from your pump as the CareLink® Personal software, but it contains more clinical details.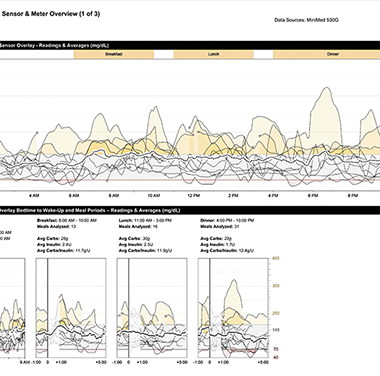 6 WAYS CARELINK® PERSONALcan enhance your diabetes management
Greater control
Results have shown that people using CareLink® Personal software had improved control of HbA1c levels when compared to people using insulin pump therapy without CareLink® Personal software1.
Easily identify problems & trends in your insulin intake
Easy to read reports can help you understand the effects of insulin, carbohydrates and exercise on your glucose levels.
Remote communication with your healthcare provider
Between visits, your healthcare provider may review your CareLink® Personal software information remotely to help you make more accurate therapy adjustments when needed.
Get the most from one piece of software
CareLink® can download from a large range of common blood glucose (BG) meters. Entering these into the pump using the Bolus Wizard® allows you to download your BG readings through the pump.
See the full picture
By using the CGM function of your insulin pump you can see a full picture of your glucose trends, insulin usage, BG readings and exercise all in one place – without the need for logbooks.
Understanding the effects of insulin doses, eating habits, exercise routines and medication on your own personal glucose levels is key to improving your diabetes control. Information is presented in simple charts, graphs and tables to help you identify patterns and problems. This can help you and your healthcare professional work out the root cause of low and high blood glucose levels at particular times.
Share your progress with your clinic
CareLink®'s innovative functionality allows your healthcare professional to see your data from their hospital computer. If your clinic has the CareLink® Pro Software you can give them permission to access your account. This allows them to link from their computer to your online account and pull your downloaded data into their records, quickly and securely.
View and share your report in just a few easy steps

1. account
Create an account

2. Upload
Easily upload from any computer

3. View
See the same report as your doctor and discover trends

4. Collaborate
Share with your doctor
What do I need to get started?
Visit CareLink FAQs or view the CareLink Getting Started Guide.
If you experience any technical issues with the pump upload process, please call our Helpline on 1800 209 6777(ALL 365 DAYS of the Year with extended working window of 12 hours. New Timing : 9:30am to 9:30pm. All 7 days of the week) for support.
You may be interested in
CARELINK FAQ
Find answers to popular questions about CareLink Software.
More Details
GUIDES AND MANUALS
Gain a better understanding of your Medtronic Diabetes products.
More Details
CONTINUOUS GLUCOSE MONITORING
Monitor your glucose levels 24/7 with the accuracy of Enlite Sensors.
More Details
Corriveau EA, Durso PJ, Kaufman ED, Skipper BJ, Laskaratos LA, Heintsman KB. Effect of Carelink, an Internet-based insulin pump monitoring system, on glycaemic control in rural and urban children with Insulin Dependant Diabetes mellitus. Pediatric Diabets. 2008;9(4, pt 2):360-366.